December 4th, 2014 by Phil Armour
I like to ski.  I mean really like to ski.  I've done it for a long time and I fancy I'm quite good at it.  I Iike to have the latest gear too.  So I have this Ski Tracks app on my iPhone see.  It's very cool.  When I start skiing for the day I set it going and it records every run I make: the altitude, the speed.  Heck, it even tracks your runs on a map that you can export and relive on Google Earth.  Really. 
Ski Tracks also summarizes your days' efforts showing the total number of runs, the total vertical skied, the maximum altitude, the time spent skiing, the distance traveled, the angle of the slope…
A Hard Day on the Slopes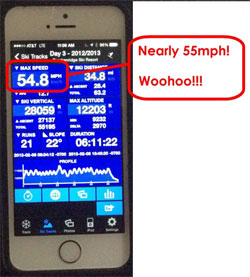 Sitting in the condo at the end of a hard day on the slopes of Breckenridge Resort in Colorado, I checked my Ski Tracks for the day.  "Woohoo!" I said.  "Glenn, come check this out!"  My ski buddy Glenn ambled in from the kitchen; we've skied together for several years, ever since our respective spouses decided that for some reason they didn't want to ski with us anymore. 
"Look at this," I exclaimed holding up my iPhone showing the summary of my day's skiing.  "Just check out this top speed!!"
Glenn squinted at the screen.  "Hmmm, 54.8 mph," he observed.
"How about that?" I asked rhetorically, "have the ol' legs still got it or what?"  I was inordinately pleased with myself.  I mean, 54.8 mph is FAST.