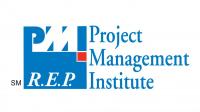 QSM is a PMI® Registered Education Provider (R.E.P.). Our full training course is 18 PDUs. Students taking the full course can claim 7.5 Technical PDUs, 6 Leadership PDUs, and 4.5 Strategic PDUs.
Education Philosophy
We know our clients are smart people looking for better ways to do their jobs. If we provide good tools and show our clients how to use them effectively, they become better problem solvers and can achieve extraordinary results. Training is the key ingredient that allows excellence in any line of work.
Our Software Estimation and Control Course focuses on building practical skills you can apply as soon as you return to your business. We keep class sizes small in order to provide students with individual coaching. We often work with students in class to analyze their current projects.
Our Metrics and Benchmarking Course covers QSM's SLIM (Software Lifecycle Management) methodology and its application to software measurement, data collection, and benchmarking. QSM's SLIM-Metrics product is featured in a highly interactive and hands-on learning environment.
What our training customers say:
"Instructors did an excellent job of making attendees feel comfortable and at ease. This leads to open communication and exchange of ideas."

"Real-life examples in all problems."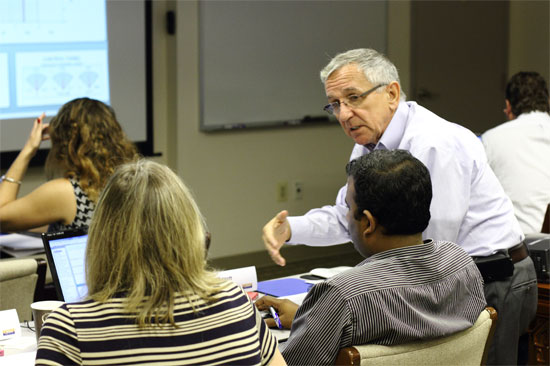 Instructors
Our instructors are professionals in the software measurement industry with many years of problem-solving experience. They understand the complexities of building software products and know how to adapt QSM tools to accommodate a wide range of circumstances. This enables them to address the special interests of each group.
Attendee Feedback
We ask all attendees to fill out an evaluation survey to help us improve the class and incorporate relevant material. We also ask that they rate our performance. Here's the result.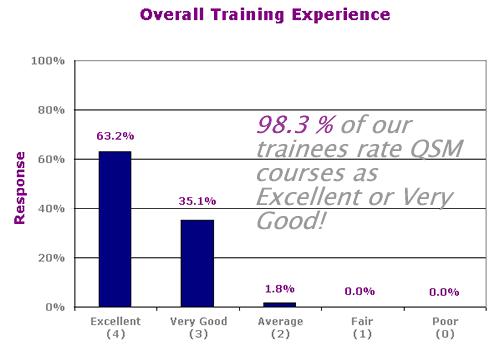 PMI, PMI-RMP, and PMI-ACP are registered marks of Project Management Institute, Inc.