May 22nd, 2014 by Elisabeth Pendergrass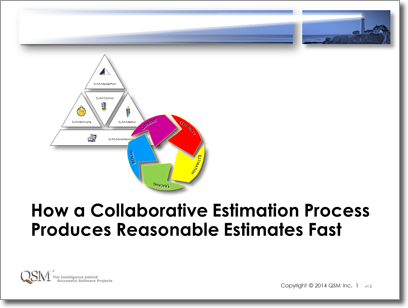 QSM's recent webinar, How a Collaborative Estimation Process Produces Realistic Estimates Fast, presented by Laura Zuber, sparked a lively Q&A session from our audience. Here are the highlights:
Q: How do I know which template to use when creating a new estimate in SLIM-WebServices?
A: That's a good question. Your back office administrator configures templates to map to your software development lifecycle, your standard processes and different project types. The back office person can provide detailed descriptions and key information that are viewable from the Feasibility Wizard so you know which one to select.
Q: What makes a project assessed as conservative or risky?