June 12th, 2014 by Carol Dekkers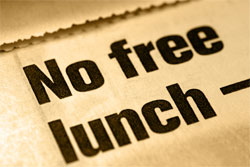 Dear Carol: 
Given all your international experience, I'm hoping you can tell me where I can find a large, freely available industry database that project managers could use for software estimation and/or benchmarking.  After 5 decades of software development wouldn't you think that we could put together a software estimation or benchmarking database that the world could use for free? 
- Hopeful in Hartford
Dear Hopeful:  
Great question – and the dream of many IT project managers.  It might seem like an easy concept (just collect actual effort and project size and use it for future estimates); in practice it's not that simple.
What I know is that in software estimation and benchmarking, there is no free lunch -- you get what you pay for.  And I'll explain why…