February 24th, 2016 by Keith Ciocco
Many of the project managers that I speak with track their software and systems projects at a very detailed level. They use detailed spreadsheets or other tools to track hours and tasks on a daily basis. This is fine, but it's important to manage the big picture so we can avoid assigning detailed tasks to duration and budget goals that are unrealistic.
By "big picture" I mean tracking at the project release level and focusing on a few key actuals: size, duration, effort, reliability, and efficiency. It's important to track these actuals to a reliable plan. These are the measures that can give us the biggest and quickest insight into a project's potential success or failure. You can see this analysis in the SLIM-Control graphs below, showing the blue plans versus the red actuals.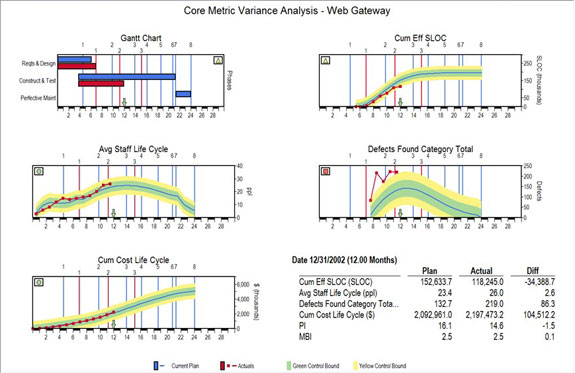 Once the project is underway and we start tracking the actuals, we can generate new project forecasts based on the actual work delivered, time elapsed, and effort spent. These new forecasts are empirically-based. This will enable us to adapt to change requests, see when the project will finish and how much it will cost. The SLIM-Control graphs below show the blue plans versus the red actuals plus the new forecasts shown in white. SLIM-Control is curve-fitting to the actuals and running empirically-based mathematical models to generate the new forecasts.