August 27th, 2013 by Katie Costantini
Although each workbook is set up with default themes, the look and feel of SLIM-Estimate, SLIM-Control, SLIM-Metrics, and SLIM-MasterPlan workbooks are readily customizable.  
Screen Background
The easiest way to change the feel of your workbooks is to change the background color and style.  To change the background color, go to Tools|Customize Display|Screen/Printer Fonts, Colors, and Symbols…, then go to the Colors & Symbols tab on the right.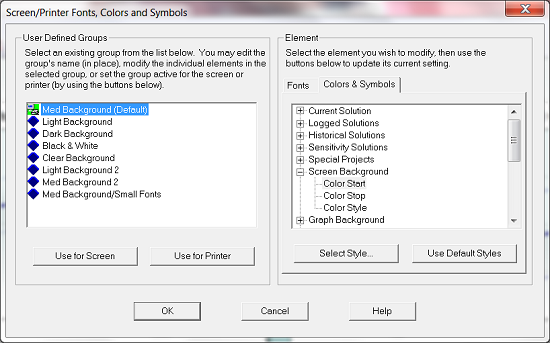 Color Start and Color End are important if you want to create a gradient background, like the background in the first image.  A gradient background begins with your specified Color Start color then transforms into your Color Stop color either vertically, horizontally, or diagonally (pictured above).  If you choose the Solid color style, simply select your Color Start.
Graph Background
Like the Screen Background, you can have a solid background or a gradient.  Simply follow the steps above for selecting your colors and styles.
Solutions and Reference Data