July 13th, 2020 by Ethan Avery
The onset of COVID-19 has revealed many dependent synergies in the world and their mutual effects on one another. For example, the decrease in human consumption of fossil fuels, not as many cars on the road nor planes in the air has reduced carbon emissions resulting in cleaner air, at least for the time being.
Another synergistic COVID-19 result affects the IT world, including estimation of software delivery. Many organizations wisely instilled a work from home (WFH) policy to mitigate the potential spread of disease. This new work format introduced a fascinating human experiment – can we be as productive en masse during a WFH situation as opposed to being in the office? The lack of physical proximity stresses the importance of fluid and effective communication. During pre-COVID-19 days, estimating software delivery was orchestrated through meetings in hallways and conference rooms to communicate project assumptions, constraints and lobbying for project expectations. But post-COVID-19, we are reliant on remote/virtual contact, limiting the nuances of physical meetings. Thankfully, there are capabilities in place to make this a fluid process within our SLIM-Collaborate solution.
Those involved in estimating a software delivery can find it challenging to be kept up to date on the status of estimates. That challenge is answered! All actors in the estimating process can be apprised on the progress of an estimate via workflow status updates. For example, Jane's team is all remote, with stakeholders, contributors, estimators all working on the same project, yet all physically dispersed. Through a native workflow process, the varying roles in the estimating process are easily made aware of the estimate status changes via automated email alerts. Below is an example of options for the alerts to be automatically pushed, based on your own preferences.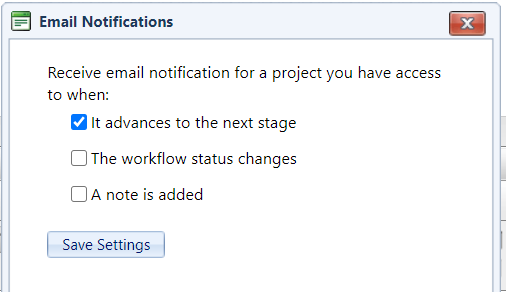 Citing the screen shot above, advancing to the next stage would alert an estimate team player that the estimate has been updated with more information changing its stage or level of detail, perhaps from a feasibility/ROM estimate to a more detailed estimate.
The "workflow status changes" is a customizable field allowing project teams to assign a custom status to projects and solutions within SLIM-Collaborate that can be used to track a project's progression through the workflow, trigger "next step" actions and email notifications to stakeholders, and filter/sort projects in the Project List.
Adding a note would alert stakeholders that there has been information added to the estimate such as anecdotal information about a chart/graph, or perhaps some background information about the data in general.
While we grapple with how to best navigate this new world of COVID-19, we are likely going to still be honing our approach in the foreseeable future. It's an opportunity to test the currently available capabilities to adjust to the new reality.
To learn more about QSM services and support during COVID-19, check out this blog post!