December 18th, 2013 by Elisabeth Pendergrass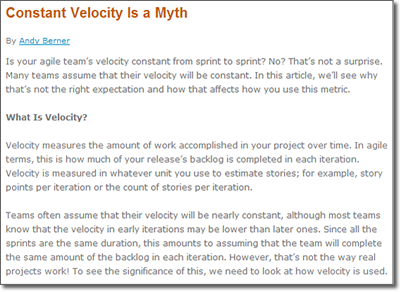 Is your agile team's velocity constant from sprint to sprint? No? That's not a surprise. Many teams assume that their velocity will be constant. In this article, the third in a series recently published on Projectmanagement.com, QSM's Andy Berner explains why that's not the right expectation--and how that affects how you use this metric.
Andy Berner is a software engineer and methodologist. He came to QSM in 2012 after over 25 years in both large and small software organizations, including, among others, EDS (now HP), Rational Software and IBM. Based on his experience in almost every role in software development, Andy has consulted with numerous organizations on using software development methods and tools to improve productivity and quality.