October 14th, 2015 by Elisabeth Pendergrass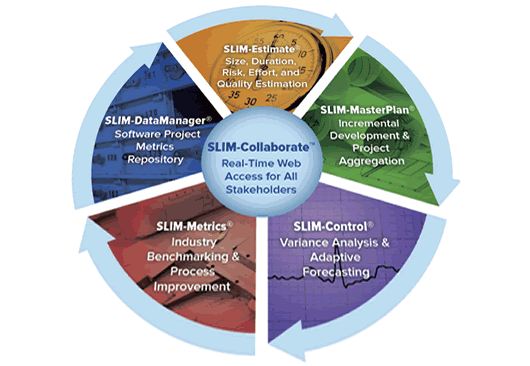 We're happy to announce the launch of SLIM-Collaborate™ 2.0, the solution formerly known as SLIM-WebServices. The new name better represents how our customers use this "light and lean" version of our trusted software estimation, tracking, and benchmarking suite.
As technology has become more integrated into every facet of our work and life, the number of stakeholders in software projects has grown. Collaboration among all of these parties is critical in making sure software is designed, developed, and deployed correctly. Not everyone involved needs the detail and power of our SLIM solution, but they all need visibility into project status. SLIM-Collaborate gives that transparency with an easy-to-use interface and dashboards designed with business users in mind. This transparency and involvement of all users improves estimation accuracy and ultimately achieve software project goals on time and on budget.
This update is not just a facelift; we've updated more than just the name. The new version includes a number of new features and enhancements that help the entire project management team estimate, implement and track its projects to avoid failure, such as:
Feasibility and Estimation - Updated user-configurable public and private dashboards are now available within the feasibility and estimation stages that allow users display up to nine charts and reports in a single view. "Show as Text" feature makes it easy to toggle charts to report form and back. "Show and Compare Solution" feature allows analysts to show or hide the balanced risk or comparison charts.
Closeout, Benchmark, and Portfolio Services - Closeout projects can now be exported to (and merged with) an existing SLIM-DataManager database by the administrator. Matching projects are identified and updated automatically.
Administration Site - The Organizational Breakdown Structure (OBS) tree/list can now be exported to text or CSV file formats. A "Solution Workflow Status" field can be added by the administrator and will be displayed as part of the Configuration tab of Feasibility, Estimation, and Closeout projects.
Back Office Administration - Better coordination with SLIM desktop applications for automatic updating, and auto populating with existing data.
For more information on SLIM Collaborate click here. To find out if the Collaborate solution is right for your organization contact QSM Sales.