October 27th, 2022 by Richard Pelaez
Football season is well underway, and as a loyal football fan I enjoy watching my team go through the highs and lows of wins and losses. Many of the weekly games come down to crucial plays where coaches must decide the plays to call. Coaches now more than ever are analyzed by what plays they called or how they managed the game. It's interesting that these days you often hear of data driven decision making and what the analytics say. More and more, technology is playing a big role in our lives, including sports. Like so many industries, data-driven approaches are using models to determine "win probability". The data is now being used to determine if a team will go for it on 4th down, punt, kick the extra point, go for a 2-point conversion, and even when to take time outs! This has changed how coaches manage the game. The analytics provide coaches the ability to make informed decisions and defend their actions based on data. Coaches can now make critical decisions with confidence. John Harbaugh (Baltimore Ravens Head Coach) is known to have an analyst in his ear during games feeding him probabilities.
What if you could do the same for your software delivery? QSM's SLIM-Estimate tool leverages industry trends on similar projects along with your own historical data to provide valuable insight on potential cost and schedule outcomes. That's like having your own personal analyst in your ear.
You will have the analytics to provide better data-driven decision making and understand the risks of your commitment. What is the probability we can deliver in 8 months with 20 people or does committing to 10 months give us a better "win probability?" How much risk do we carry if we plan to deliver all the scope around a 5-month schedule? SLIM-Estimate can help you answer these types of questions in minutes using a powerful "what-if" simulator.
Probability curves and trends metrics are common in NFL analysis. Those same views are in SLIM-Estimate to help software managers and stakeholders determine the best plan forward. In a view from QSM's estimation tool below, you can see some examples of how you might analyze the probability and risk of a particular software or infrastructure delivery.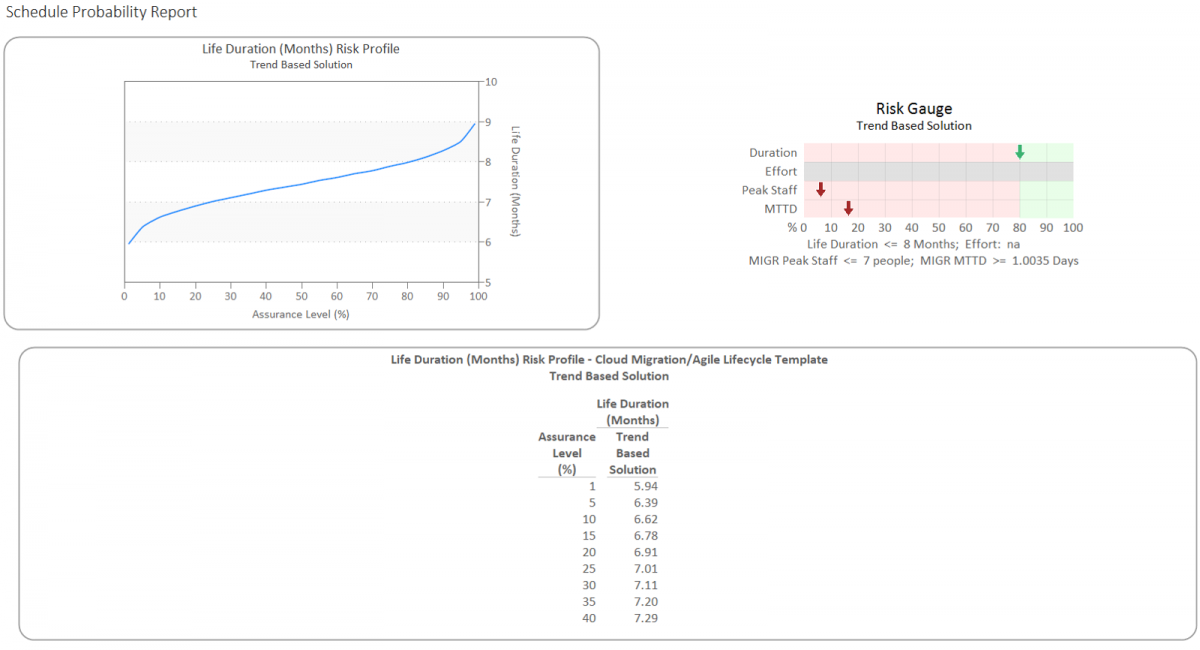 Similar to the process in the NFL, evaluating risk and sanity-checking your plan or estimate with industry trends is important to make sure your targets are realistic and competitive. SLIM-Estimate gives you the ability to load your own historical data and tune the algorithms in the model to your environment and past performance for better accuracy. No history? No problem. QSM's SLIM tools leverage the largest industry database of its kind with over 13,000 completed software projects. Leverage both historical and industry data to confidently make decisions when planning your cloud migration, IT Transformation or software delivery. In the example below, you can see the estimates compared to the latest QSM industry trends and historical data points for duration and effort.

Having this type of analytics at your disposal will provide the ability to manage expectations and make data driven decisions. Confidently defend your estimate knowing the data supports your decision. How comforting is that? Transforming data into insight is a key to success in the NFL and same goes for your software delivery or cloud migration. Leverage SLIM for your win strategy today!