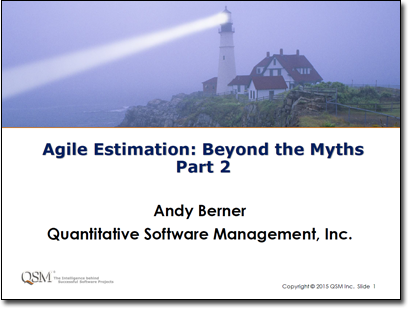 When it comes to agile, there are common myths and misconceptions about project estimation and tracking. In Part 2 of this PDU-approved two-part webinar series (which can be viewed independently or together), presented by QSM's Andy Berner offers corrections to these, such as:
Why velocity is not a good predictor of release duration
Why burndown charts will not be close to straight lines
Why change and churn are not the same thing
Why looking at just the values of metrics alone is not enough
While some longstanding principles about software estimation still apply, agile methods require some significant changes to how we estimate. This webinar shows you how to leverage the SLIM estimation and tracking tools to properly interpret metrics collected by agile teams and ensure that agile projects meet their goals. Andy Berner demonstrates how SLIM fits with the principles of agile development, and discusses milestones, productivity, project control, data collection, and looks with an eye towards further research.