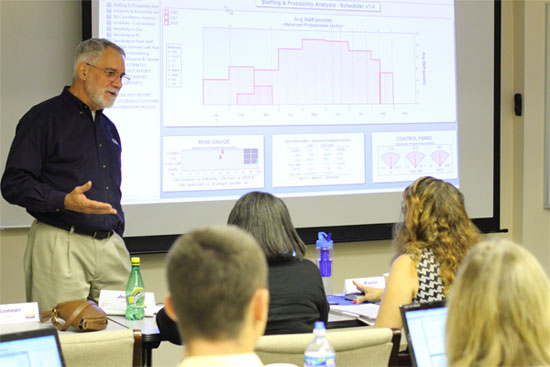 For more information, please contact
Keith Ciocco (800) 424-6755
training@qsm.com
Basic Courses
2019 Training Schedule
November
SLIM-Estimate
November 19 - 21, 2019
10 am -1 pm Eastern
January
SLIM-Estimate
January 14 - 16, 2020
10 am -1 pm Eastern
February
SLIM-Estimate
February 11 - 13, 2020
10 am -1 pm Eastern
March
SLIM-Estimate
March 16 - 18, 2020
10 am -1 pm Eastern
SLIM-Control
March 19, 2020
10 am -1 pm Eastern
SLIM-Metrics
March 20, 2020
10 am -1 pm Eastern
April
SLIM-Estimate
April 14 - 16, 2020
10 am -1 pm Eastern
May
SLIM-Estimate
May 19 - 21, 2020
10 am -1 pm Eastern
Online Training Info and Registration
SLIM-Suite training is now available in convenient half-day sessions tailored to fit your busy work schedule! Our redesigned training classes are delivered in three-hour classes, starting at 10 a.m., Eastern time and ending at 1 p.m. Our online classrooms and virtual labs will get you up to speed quickly, even if you haven't yet installed SLIM-Suite tools in your environment.
A specified number of training seats are included with most SLIM licenses for no extra charge. Please contact your QSM Account Manager for details.
SLIM Online training preview
SLIM-Estimate training includes one three-hour session per day, for three consecutive days.

SLIM-Control and SLIM-Metrics courses are delivered in a single, three hour session.
Click here to register for SLIM training