QSM Software Almanac: 2019 Edition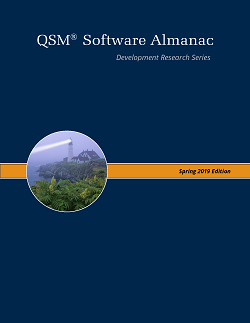 The 2019 Software Almanac focuses on agile development and the continued relevance and application of estimation and metrics.
This year's almanac presents 18 articles from several perspectives, including both private and public. These articles show that there is indeed a compelling need to apply the basic principles of software estimation to projects, regardless of the methodology used, and that traditional metrics – even sizing metrics – can and should be applied to agile projects. Over the course of this book, the authors examine agile sizing approaches, effort and productivity, estimation best practices, as well as project and portfolio management best practices. All the articles offer research and insights into the foundational skills associated with parametric estimation and adapting those existing skills to account for changing conditions.
Much of the content in the 2019 QSM Software Almanac is derived from the QSM Metrics Database, drawing data from over 13,000 completed software projects from North and South America, Australia, Europe, Africa, and Asia, representing over 1.2 billion lines of code, 600+ development languages, and 120 million person hours of effort.
To access QSM Software Almanac: 2019 Edition, fill out this form:
Already Registered?
Already registered?
Enter your email address: