The Evolution of SLIM-Suite Tools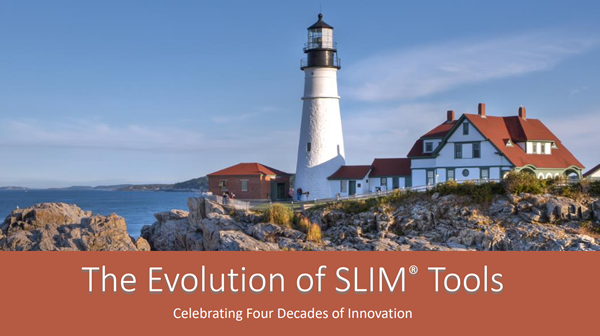 The SLIM-Suite of tools has come a long way from Larry Putnam's Software Lifecycle Methodology research in 1978. Over the years, what we now know as SLIM tools have evolved from a mainframe-based, timesharing platform to early desktop versions deployed on Hewlett Packard 80 series machines to the first IBM PCs running BASIC/DOS. Over the next decade, SLIM-Estimate moved to Windows and was joined by SLIM-Control, SLIM-Metrics and SLIM-DataManager, and SLIM-MasterPlan. In 2012, SLIM tools migrated to the web with the first release of SLIM-Collaborate. To extend your analysis options, the base applications were enhanced by three APIs, integrations to Clarity and other PPM tools, SmartSheets, and the Agile Adjuster. Laura Zuber and Kate Armel will explore the past, present, and future of SLIM tools and find out what features you would most like to see as QSM begins our fifth decade.

Kate Armel, Director of Testing, Training, & Technical Support at QSM, has 19 years of experience providing technical and consultative support for software estimation, project tracking and forecasting, and industry benchmarking. She oversees data collection, validation, and data analysis for the QSM database; development of over 900 industry regression trends; client, internal, and technical support services; software testing and quality assurance; training, documentation and online help for SLIM-Suite and SLIM-Collaborate applications, APIs, and utilities; and technical writing, research, and analysis to support product development, research, and consulting services. Ms. Armel was the Chief Editor and analyst/co-author of the 2006 QSM IT Software Almanac and has authored several published articles.

Laura Zuber, QSM's Customer Support Manager and Lead Trainer, has 25 years of experience in software development consulting, training, and support. She has conducted training and coaching sessions for all QSM SLIM-Suite tools and helped customers implement SLIM across a wide variety of processes and platforms. Laura has managed software development projects, served as a senior software process improvement specialist, performed process assessments, designed and implemented best practices, and authored numerous training programs. She is a Certified Scrum Master and lead consultant for using SLIM with Agile development.
To access The Evolution of SLIM-Suite Tools, fill out this form:
Already Registered?
Already registered?
Enter your email address: