Five Core Metrics to Reduce Outsourced Software Project Failure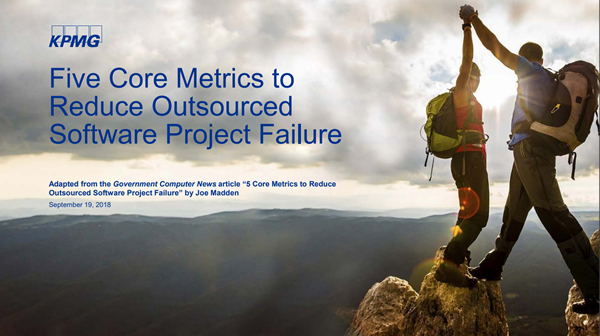 Outsourcing was supposed to make government IT executives' lives easier. Yet in too many cases, it's had the opposite effect, leading to cost overruns, inefficiencies, and solutions that do not work. Originally published in an article in Government Computer News, Joseph Madden discusses how the five core metrics of software: product size, process productivity, schedule duration, effort and reliability make a powerful tool that can be used at each phase of the software acquisition life cycle to help government IT program managers make more objective, quantitative decisions.

Joseph Madden is a director in KPMG's CIO Advisory practice with more than 26 years of experience leading and delivering engagements in the areas of software development, IT project, program and portfolio management, software estimation, quality and productivity, IT governance, IT budgeting, as well as client and vendor management. He is a published coauthor of the books IT Measurement: Practical Advice from the Experts and the 2016 QSM Software Almanac and was a Keynote Presenter at the 2017 Federal Reserve Bank Planning for Program Success Summit. Prior to KPMG, Mr. Madden served as VP of Professional Services at QSM and is a certified Software Lifecycle Management tool (SLIM) Estimation Professional.
To access Five Core Metrics to Reduce Outsourced Software Project Failure, fill out this form:
Already Registered?
Already registered?
Enter your email address: