Our Evolution Around Estimation at Microsoft Services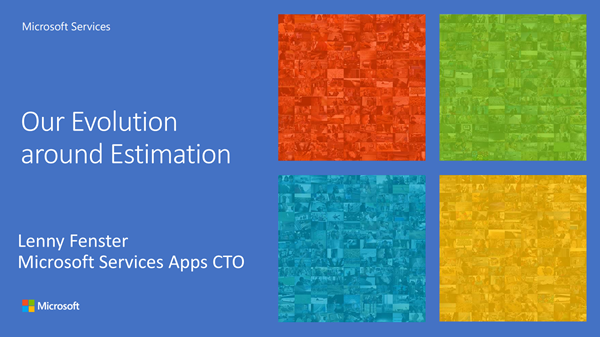 As the Apps Global CTO for Microsoft Services, Lenny sees the need for estimation in many shapes and sizes throughout the world. In his twenty years at Microsoft, Lenny has also seen many different attempts to improve how Microsoft Services estimates time and effort for software development projects. Not all of them have hit the mark. In this presentation turned lively Q&A session, Lenny talks about the evolution his team is driving in Microsoft Services to improve the maturity, consistency, and defensibility of software estimation for some of the largest and most complex software projects in the world. He talks specifically about the intentional separation of Scope and Estimation and the use of SLIM as a key ingredient in the success they are now having.

Lenny Fenster is the Global CTO for the Apps Domain within Microsoft Services. The Apps business covers the application development space and includes technology areas like Azure, Mobility, and DevOps. In his role as CTO, Lenny is responsible for the worldwide technology strategy for Apps and focuses on the key areas of delivery quality, solutions, liaison with the product team and R&D, managing the global community of architects and consultants, and planning, leveraging, and harvesting IP to drive efficiency and productivity. Lenny and his team work directly with Microsoft's customers to help them succeed by embracing the changing and disruptive technology landscape through technologies like BlockChain, IoT, Intelligent Agents, Mixed Reality, Open Source and more. Lenny joined Microsoft in 1998 and has over 25 years of experience in the IT industry; all of it related to designing, developing, and deploying enterprise solutions. Prior to coming to Microsoft, Lenny was Global Director of Systems Integration for SunGard Capital Markets. At SunGard, Lenny partnered closely with financial institutions and governments around the world to develop and drive solutions that expedited the exchange of currency. Lenny has authored several articles in various technology journals as well as the book The Effective Use of Microsoft Enterprise Library; available in both English and Simplified Chinese. Lenny holds a BS in Psychology and an MS in Computer Science.
To access Our Evolution Around Estimation at Microsoft Services, fill out this form:
Already Registered?
Already registered?
Enter your email address: