QSM Software Almanac: 2017 Edition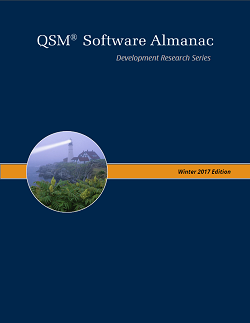 The 2017 Software Almanac focuses on the uses and advantages of parametric estimation and importance of quality as it pertains to software projects.
This year's almanac highlights the successful application of processes outlined in the 2016 edition, which examined the past 35 years of software estimation and identified principles that are still applicable today, despite the evolution of agile methodologies. The 2017 Software Almanac includes articles examining primary core metrics, management, and best practices to minimize software project failures. These articles address the dangers of ignoring historical data, lessons learned from past software projects, and the value of applying those lessons correctly.
Much of the content in the 2017 QSM Software Almanac is derived from the QSM Metrics Database, drawing data from over 10,000 completed software projects from North and South America, Australia, Europe, Africa, and Asia, representing over 740 million lines of code, 600+ development languages, and 105,833 person years of effort.
To access QSM Software Almanac: 2017 Edition, fill out this form:
Already Registered?
Already registered?
Enter your email address: