Here's how to locate your SLIM license information:
If the applications are already installed:

Simply launch any SLIM application and look at the right side of the splash screen, or
With the application open, select Help | About SLIM... from the menu to access the splash screen.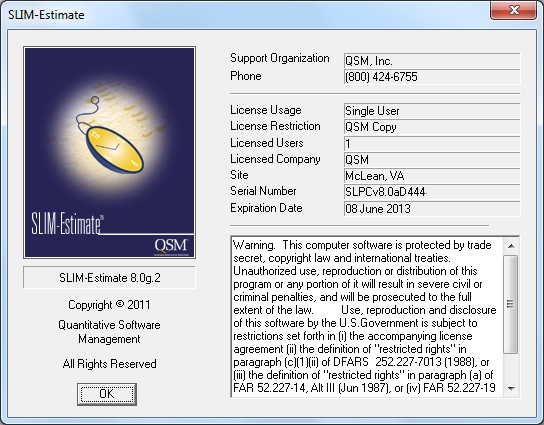 If your license has expired or the application has not been installed yet, try the following:

If the application is installed on your computer, simply browse to the directory where it is installed (Usually C:\Program Files\QSM\Toolsnn, where "nn" is the current version of SLIM-Suite). To determine the path to the application directory, right-click on the application shortcut and select the "properties" tab. Locate the readme.txt file located in your Toolsnn folder. Open this file in Notepad or any other text editor - it contains your license information.
If the applications have not yet been installed, contact the software administrator for your company and ask for a copy of your license email.
If you need help locating your software administrator or license email (or if you have questions) call QSM at 800 424-6755 for assistance.