Practical Software Measurement
Beginning with the release of SLIM-Suite v8.1, two new SLIM-Estimate solution methods were added to let you see what a "typical" project would look like: that is, the resources it would require, based upon historical projects from either the QSM database or your own. The two methods are: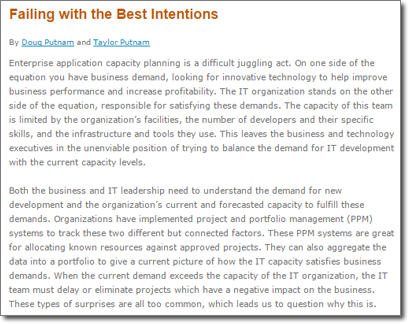 When it comes to agile, there are common myths and misconceptions about estimation. In the first of this two-part webinar series (which can be viewed independently or together), presented on April 22 at 1:00 PM EDT, QSM's Andy Berner will offer corrections to these, such as:
On Thursday, April 9, QSM's Pam Simonovich will present Does Agile Scale? - A Short Case Study, hosted at the University of Minnesota.
This presentation uses completed project data as an example to show that when organizations make a conscious decision to adopt Agile methods in conjunction with other traditional development methodologies, these approaches can be effectively scaled and implemented for larger projects and enterprises – to a point.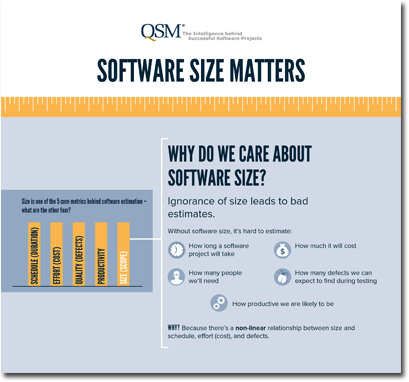 If you were unable to attend our recent webinar, QSM's Software Sizing Infographic: A Visual Aid for Understanding Software Size, a replay is now available.
When an organization wants to proactively manage their software activities from inception through development and sustainment, an enterprise software estimation or acquisition Center of Excellence (COE) is a great solution. A significant portion of our professional services business at QSM is helping companies design and stand up enterprise COE operations.
There are three main components to a successful COE implementation. They are: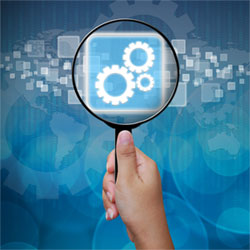 There is an old adage that if your only tool is a hammer, everything looks like a nail. We use the lessons learned and experience we have gained to address current issues. But if the problem (or software project) we face today is fundamentally different from those we've dealt with previously, past experience isn't the proper framework. In effect, we will be using a hammer when a saw or a chisel might be the tools we need.
The solution, of course, is to first gain an understanding of the problem at hand. What are its defining features? How does it behave? Only then can a proper solution be designed and the appropriate tools selected.
It's easy to imagine there is a lot of complex computer software code required to operate and control a fully autonomous self-driving car, such as the prototype recently unveiled by Google, and that advanced systems engineering and software life cycle management techniques are required to successfully manage its development. However, you may be surprised to find out that nearly every vehicle under 30 years old on the road today also depends on computer software - and lots of it.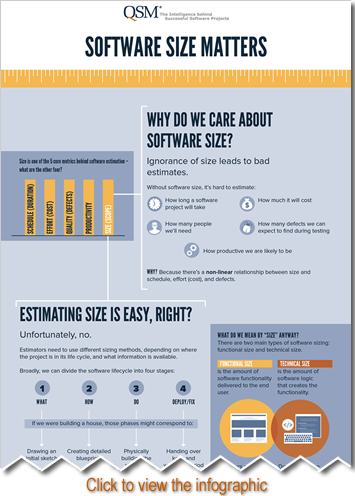 Software size, the amount of functionality in a given software release, is arguably the most important of the five core metrics of software estimation. There is little point in tracking effort, duration, productivity and quality if you are unable to quantify what you are building.