Practical Software Measurement
It is no coincidence that this year's release of the 2014 QSM Software Almanac has been coined the Research Edition. The data, research, insights, analysis and trends packed into the 200+ page book truly make it the ultimate resource for software development and estimation. That said, I thought I'd share just a few of the highlights from this year's Almanac as a little teaser to what you'll find when you download the full (and free) resource.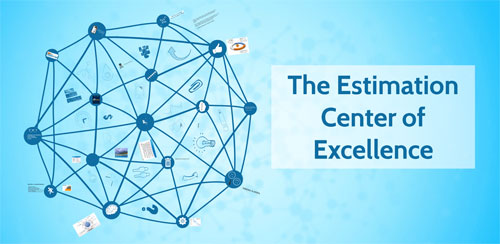 QSM's recent webinar, Organizational Success; A Practical Guide to the Estimation Center of Excellence, presented by J.D. Ottenbreit, featured a lively Q&A session from our audience. Here are the highlights:
I like to ski. I mean really like to ski. I've done it for a long time and I fancy I'm quite good at it. I Iike to have the latest gear too. So I have this Ski Tracks app on my iPhone see. It's very cool. When I start skiing for the day I set it going and it records every run I make: the altitude, the speed. Heck, it even tracks your runs on a map that you can export and relive on Google Earth. Really.
Ski Tracks also summarizes your days' efforts showing the total number of runs, the total vertical skied, the maximum altitude, the time spent skiing, the distance traveled, the angle of the slope…
A Hard Day on the Slopes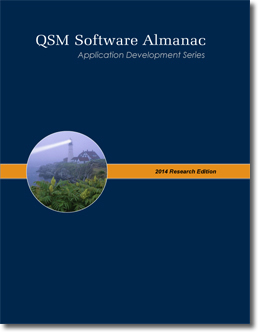 After many months of research, I'm pleased to announce that today QSM has released the 2014 version of its Software Almanac. A follow-up to the previous version released in 2006, this 200+ page book includes more than 20 articles on topics such as metrics, agile methodology, long term planning, and trends in software development.
On Wednesday, Nov. 13 at 11:00 AM EST, QSM's Larry Putnam, Jr. will present IT Demand Management and Capacity Planning: Why Estimation Is Vital to Balancing the Scale, a PDU-approved webinar for ITMPI.
Estimation is critical to IT demand management as today's senior IT executives deal with a familiar challenge - how to balance the size of the development team with the company's software wish list. Modern estimation techniques offer critical insight into this challenge. In this webinar, you will learn the ins and outs of estimation and how to effectively utilize estimation to ensure project success.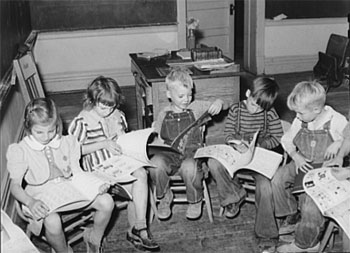 Software project benchmarking and estimating leverages the power of historical project data to do solid project estimates, yet the concepts behind such processes are often not well understood. Benchmarking and estimating rely on productivity comparisons with completed (actual) projects in a historical database and on parametric equations that mimic real life. I find that technical concepts such as software estimation or benchmarking often can be explained by using analogies that work in other industries.
How is baseball analysis like software project management? One way is the ability to continually update estimates and forecasts, as the situation and our knowledge change. As Larry Putnam Jr recently wrote, "project estimation should continue throughout the entire project lifecycle".
Walter Shewhart, the father of Statistical Process Control, explained it like this:
"…since we can make operationally verifiable predictions only in terms of future observations, it follows that with the acquisition of new data, not only may the magnitudes involved in any prediction change, but also our grounds for belief in it."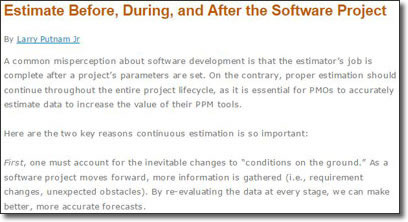 A common misperception is that an estimator's job is done after a software project's parameters are set. On the contrary, software estimation should be conducted throughout the project lifecycle to reflect inevitable changes and to improve estimates on other projects. In this article, originally published in Projects at Work, Larry Putnam Jr. identifies three ways to maximize estimating efforts — before, during and after your project is complete.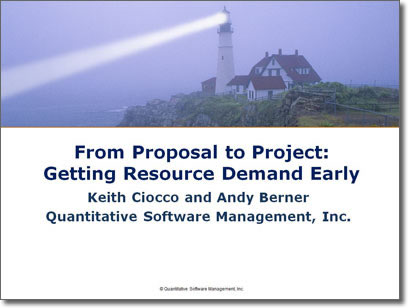 QSM's recent webinar, From Proposal to Project: Getting Resource Demand Early, presented by Andy Berner and Keith Ciocco, featured a thoughtful Q&A session from our audience. Here are the highlights:
Q: Which PPM products does SLIM work with right now?