SLIM-Estimate
Our Best-in-Class Systems and Software Project Estimation Tool, Customizable to Your Design Process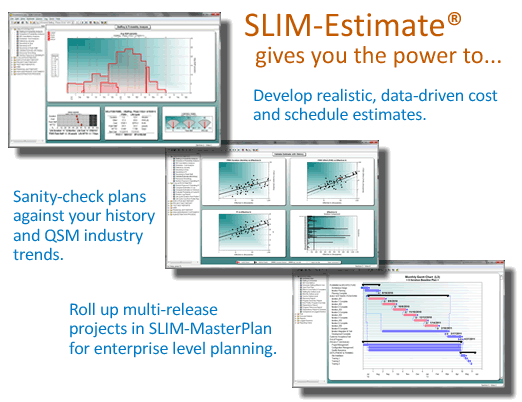 Click Screenshots to Zoom
SLIM-Estimate® helps you estimate the cost, time, and effort required to satisfy a given set of system requirements and determine the best strategy for designing and implementing your software or systems project. In addition to software cost estimation, this powerful systems and software project estimation tool provides a high level of configurability to accommodate the different design processes being used by developers today: such as Agile development, package implementation, hardware, call center development, infrastructure, model-based development, engineering and architecture design, service-oriented architecture, SAP, Oracle, and more.
SLIM-Estimate gives you the ability to:
Evaluate and sanity-check project plan alternatives with industry data or your own history before any task-level planning occurs
Validate estimates with the QSM Database, one of the largest industry databases of its kind
Negotiate a reasonable schedule and budget, using SLIM's powerful reporting capability
Customize estimates with a push of a button
Eliminate updating and double entry with smart components
Interface with MS Office and the Web
Want to see more?