Research: Books
LEARN ABOUT OUR PROJECT MANAGEMENT SOLUTIONS FOR SOFTWARE DEVELOPMENT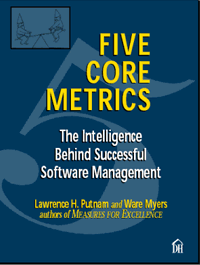 Five Core Metrics: The Intelligence Behind Successful Software Management
Lawrence H. Putnam and Ware Myers
In their newest book, authors Lawrence H. Putnam and Ware Myers leverage a large database of completed software projects to show how software projects can be planned, tracked, and controlled using Five Core Metrics. By focusing on a tried and true metric set (Time, Effort, Size, Reliability, and Process Productivity), managers can assess risk factors, anticipate surprises that cause project failure, respond to changing conditions, and replan with confidence.
"...an invaluable resource for project managers and project leaders... managers bombarded with software measurements will find what Putnam and Myers refer to as the 'five core metrics' to be a welcome solution to their metric woes."
- Michelle Giles, StickyMinds.com
Read interview with the authors...
"...a must-read for managers who want to bring development under control.. provides a comprehensive approach to achieving predictability in the software development process."
- Joe Saur, ACM Software Engineering Notes
2003, 328 pages softcover, available from Dorset House Publishing for $49.95 (includes $6.00 UPS shipping/handling).
Measures for Excellence: Reliable Software on Time, Within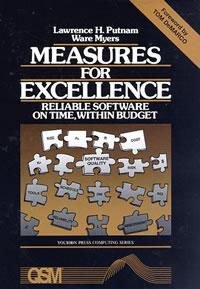 Budget
Lawrence H. Putnam and Ware Myers
Excellent text for measurement and estimation professionals. Describes in detail the theories and data underlying SLIM (Software LIfecycle Model) tools. Addresses size estimation, schedule and effort estimation, schedule/manpower trade-offs, productivity measurement, defect forecasting, project control and adaptive forecasting. Includes appendix with equations and processes for a simplified version of the SLIM model.

378 pages, soft cover, $77 plus $5 shipping/handling.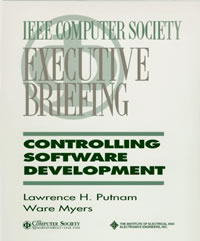 Executive Briefing: Controlling Software Development
Lawrence H. Putnam and Ware Myers
Helps senior executives sort out the knowledge they need to operate effectively at a high level. Covers two aspects of software development: progress and control of individual projects, and long-run improvement of the software process.

80 pages, soft cover, $22 plus $5 shipping/handling.