SLIM Suite Overview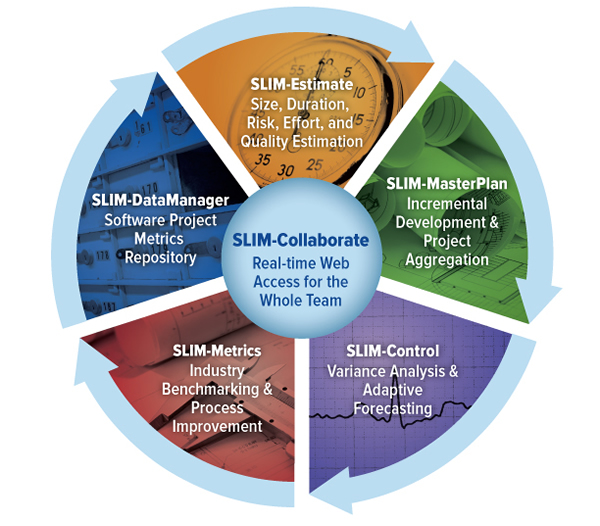 Estimate, Control and Benchmark Your Projects with Confidence
QSM's Software Lifecycle Management (SLIM) tools support better decision making at each stage of the project development lifecycle: estimating, tracking, and metrics analysis. Each tool is designed to deliver results, either as a standalone application or as part of QSM's integrated suite of proven software metrics tools.
The SLIM Suite of Tools allows our clients to:
Plan and execute successful software and other design-intensive projects
Measure the efficiency of their software and systems production
Optimize productivity within their portfolio of projects
Our tools accomplish these goals by:
Turning data into actionable management information
Identifying executable development plans
Applying historical data and proven algorithms to mitigate risk
Identifying constraints and stakeholder objectives
Providing transparency to all stakeholders and enabling them to make more informed decisions
Being highly configurable to estimate many design processes with one tool, such as hardware, infrastructure, call centers, testing, data warehouse, package implementations, Field Programmable Gate Arrays (FPGA's), Agile and many more
In addition to the industry-leading SLIM-Suite of Tools, our clients receive:
Effective product training and introductory user ramp-up support to ensure a quick return on investment
Consulting services to build long term capabilities or reinforce your staff if desired
Staying power - the SLIM brand has been in existence for over 30 years and is the top choice of Fortune 1000 corporations and governments globally
SLIM-MasterPlan® is ideal for analyzing organizational portfolios and planning large complex system integrations. This tool allows you to roll up multiple projects with complex interrelationships and quickly assess alternatives using the powerful global what-if simulator.
SLIM-Estimate® helps you estimate the time, effort, and cost required to satisfy a given set of requirements and determine the best strategy for designing and implementing your software or systems project. In addition to software cost estimation, our clients use this Putnam model-based parametric estimating tool for multiple design processes, including Agile development, hardware, infrastructure, model-based development, engineering and architecture design, service-oriented architecture, call center development, and more.
SLIM-Control® has the statistical process control techniques you need to assess the status of your project (compare the project plan against project actuals and generate a forecast to completion). SLIM-Control offers both built-in and user-defined metrics as well as earned value charting and reporting.
SLIM-Metrics® works with SLIM-DataManager to help you preserve project history, assess competitive position, identify bottlenecks, quantify the benefits of process improvement, and defend future project estimates. Benchmark your data against industry reference trends from the QSM database of over 10,000 complete software projects or create your own benchmark trends to use in SLIM-Metrics, SLIM-Estimate, or SLIM-Control.
SLIM-DataManager® is a robust data repository tool, included with SLIM-Metrics, that helps you create a corporate database of your completed projects. This database can then be leveraged by SLIM-Metrics to analyze your data and uncover key relationships and trends.
SLIM-Collaborate™ is the "light and lean" Web-based version of QSM's flagship project estimation, tracking, and benchmarking suite. With a streamlined structure and simplified user interface, the product endows more people in more positions at more places in an enterprise with sophisticated project estimation intelligence – improving visibility, transparency and global collaboration.
Want to see more?