Estimation Center of Excellence
The pressure to succeed in software development is higher than ever. When projects fail, the failure to meet expectations is more often an estimation or business decision failure rather than a production or execution issue. The parametric-driven essence of QSM's approach is designed to expose such liabilities before they cause an adverse (or disastrous) outcome, as well as reveal probable scenarios and ongoing considerations to guide and course correct once the projects are underway. Those two core principles are at the heart of the QSM Estimation Center of Excellence: to allow projects not only to begin on solid ground, but to move, in control, more predictably through the full system development lifecycle.
QSM's Proven Approach
Our seasoned consultants work with organizational decision makers and development teams to identify areas of improvement, refine processes, set realistic estimates for development projects and quantify the ROI. Typical process includes: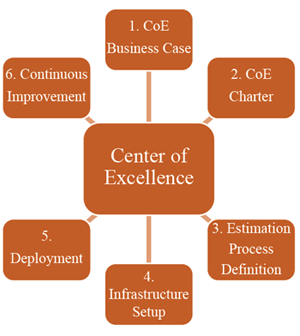 COE Business Case - justification for investment
Charter - confirm business case and buy-in from senior management
Estimation Process Definition – tailors process to the organization, taking into account development methodologies, tooling, and configuration
Infrastructure Setup – integrates with existing enterprise systems, such as PPM and testing
Deployment – includes awareness seminars, process and tooling education for both expert and casual users
Feedback and Continuous Improvement
Stakeholder Benefits
The benefits of an Estimation Center of Excellence are realized throughout an organization at a variety of levels:
C-Level - Performance benchmarks and dashboards; strategic program risk assessment and portfolio performance optimization
Project Managers - Realistic schedules, budgets, resource optimization; negotiation tools; risk assessment
Business Stakeholders – Transparency, partner relationship with development organization
Acquisition - Visibility into supplier capability and performance, best price and value
Watch the free webinar or contact a QSM representative to learn more!